Life Hacks
Best places to retire
---
Derby is the most affordable city to retire in the UK, according to Profile Pensions research, with the capital unsurprisingly the most expensive place to spend your golden years.

The average cost of a retirement home in Derby is £72,475, compared to an eye-watering £545,000 in London. Nottingham also stands out due to affordability, our research found, with the average retirement home there costing £159,950. And if you're likely to want to spend your time on the green in retirement, the land of Robin Hood has access to a large number of golf courses.

However, Plymouth is the best place to retire to overall, thanks to affordable homes, a significant selection of parks, and its proximity to the sea. The Devon port city also has relatively low crime rates and a wide range of activities available for retirees, such as bowls clubs, golf courses and bingo halls.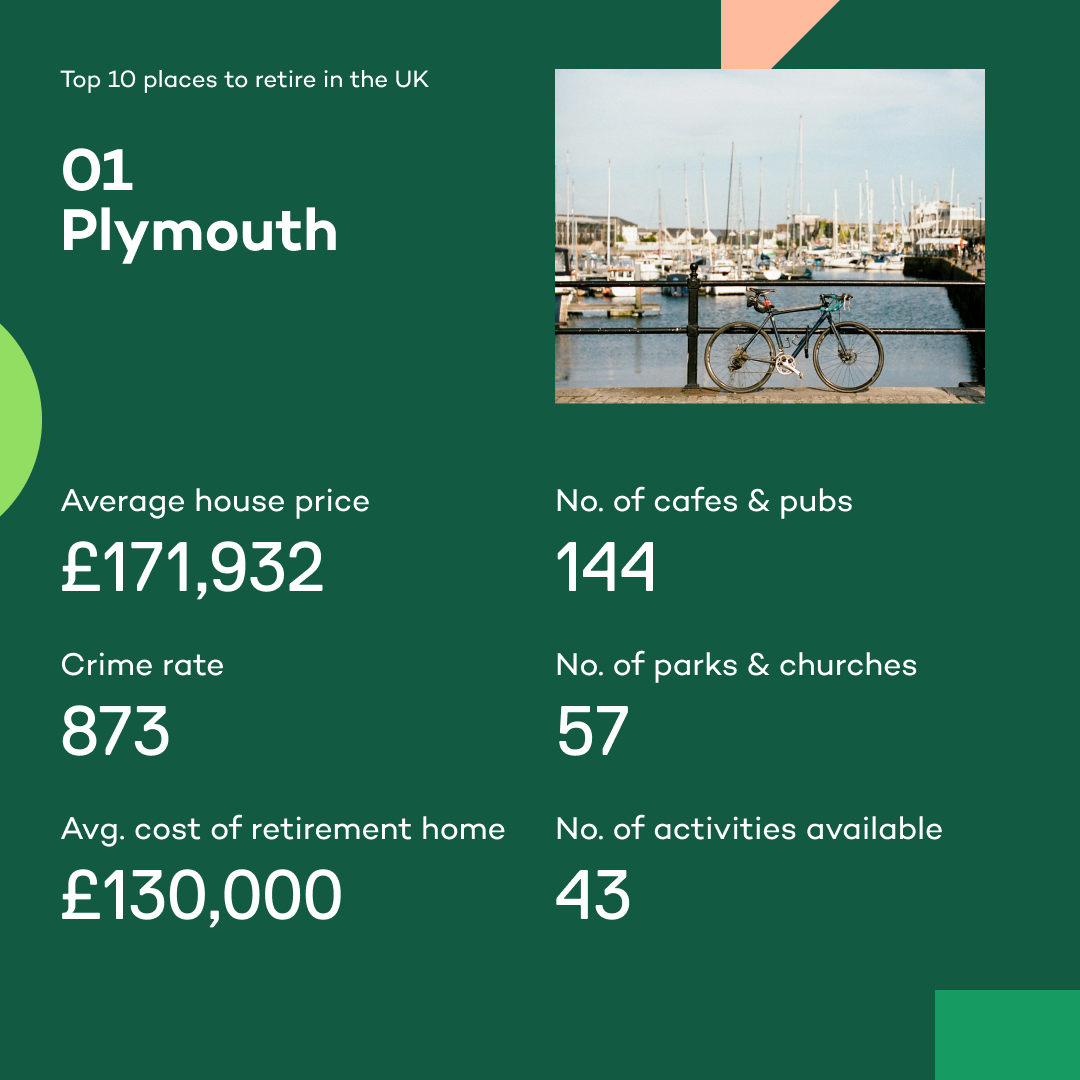 Finding the best retirement cities
To help determine the best UK cities to retire to, we looked at a range of different metrics, including house prices, crime rates, sports clubs and cinemas.

Cities that ranked highly other than Derby, Nottingham and Plymouth include Southampton, which has the highest density of cinemas and pubs of major cities in the UK, and Cardiff, which has a good mix of golf courses, cinemas, and parks, as well as affordable homes.

Retirees prioritising a low crime rate may want to consider Edinburgh, whilst those who like spending time at the pub can take their pick from nearly 3,700 drinking establishments if they retire to London.

The main things that are lacking in the capital are lawn bowls courses and golf courses, so it won't be right for you if you can't afford the hefty house prices, or if green spaces are top of your retirement wish list.
Other affordable options
Other than Derby and Nottingham, other affordable cities for retirees to move for include Hull, where average house prices stand at £111,610 and Stoke-on-Trent, where house prices average £112,751.

For those wanting to retire down south, Milton Keynes in Buckinghamshire, about 50 miles north west of London, is a much more affordable option than the capital, with the average retirement property there costing £187,500.

Michelle Gribbin, Chief Investment Officer at Profile Pensions said "Retirement is a chance to really take care of yourself after years of work, and enjoy your family, pension, and life," for Profile Pensions.

"We've created this study so existing pensioners and those coming up to pension age can choose somewhere to live that really suits their needs and their tastes – whether that's places to go with friends and family like the cinema or a café, or somewhere to find some peace and quiet, like the golf course.

"Whatever you're looking for in retirement, make sure you're picking the right place for you when you look for a new home."