Pension Tips
UK women face average pension gap of nearly £16,000
---
Women have smaller pension pots than men in every region of the UK, according to new research by Profile Pensions, with the gender gap in some areas nearly as high as 50%.

The focus of International Women's Day on March 8 is on building a gender-balanced world, but our analysis reveals that throughout the UK there are huge differences in the value of men and women's pensions.

Here, we look at how the pension gender gap varies in different regions of the UK, and what steps women can take to help close the gender gap.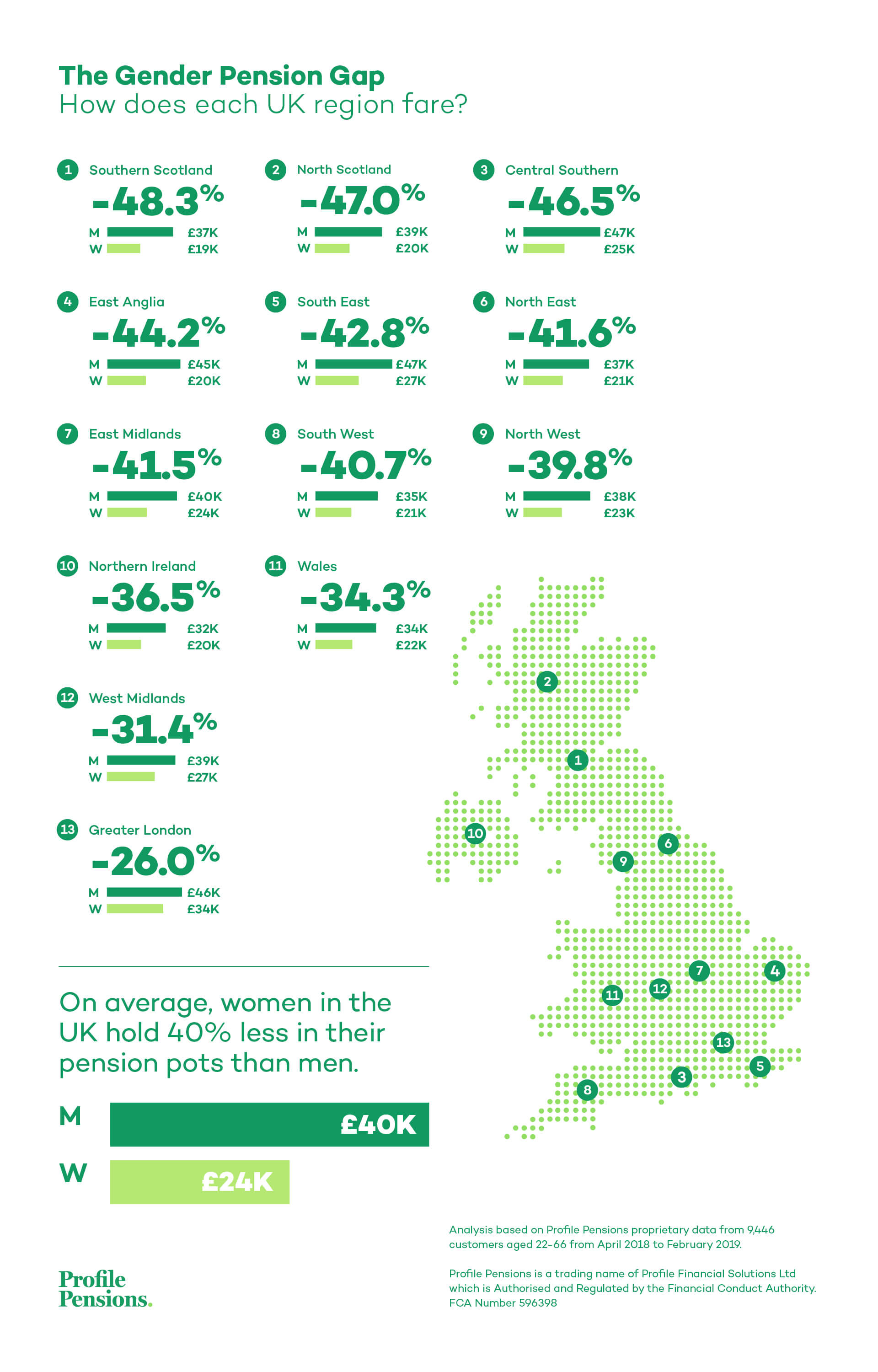 Gender pension gap widest in Scotland
Profile Pensions looked at data from more than 9,000 customers aged 22-66 to discover which areas of the UK have the biggest and smallest pension gender gaps.

The pension gender gap is widest in Southern Scotland, where men's pension pots are almost 50% bigger than women's. On average, men in Southern Scotland have an average pension value of £36,836, nearly double the size of the average woman's pension value of £19,039.

The gap is also wide in Northern Scotland, where the average value of men's pensions is £38,548, compared to £20,414, a difference of 47%. The Central Southern region is another area where a large pension gender gap is evident. Men in this region have an average pension value of £46,992, whereas women have an average pension value of £25,080, 46.5% less.

The region with the lowest pension gender gap is Greater London, where the value of the average man's pension pot is 26% higher than the average woman's. Men in Greater London have an average of £46,409 in their pensions, compared to £34,347 for women, a difference of £12,062.

The West Midlands also has a smaller pension gender gap than many other regions in the UK. Men in the West Midlands have an average pension value of £39,212, compared to £26,915 for women, a different of £12,303, or 31.4%.

Looking across the UK as a whole, the average male pension has a value of £39,554, compared to £23,792 for females - a difference of just under 40%, or £15,762.
Closing the gender pension gap
The gender pay gap, women often working part-time, or taking time out of the workplace to care for children or elderly relatives, are just some of the reasons why men and women's pension values differ so widely.

One of the ways the gap will narrow is if women are able to contribute more to their pensions, with pressure mounting on the government to lower the threshold at which people are automatically enrolled into company pension schemes.

According to research by fund manager Fidelity, if women invested just an additional 1% of their salary into their workplace pension, this could help close the gender pension gap.
Five things women can do:
1) Get to know your pension – Who holds it and what type of scheme do you have? How much is paid in each month and by who and how much will each pot generate in retirement? These are all good questions to start with.

2) Understand your circumstances - Are you married or single? Do you and your partner both have your own pension provision. No two pensions are alike and it's crucial you understand yours.

3) Face uncomfortable questions – What happens if your partner dies? Do you know enough about their pensions status and what you are entitled to?

4) Review regularly – You should be asking yourself these questions regularly; ideally every year and certainly every time you change job.

5) Seek help and guidance – There are resources out there, so make the most of them. The Government has worked hard over the last few years to overhaul their guidance and alternatives such as Profile Pensions are on hand to help those with even the smallest pension pots.

It's also vital for women to make sure they know where their pension savings are invested, and how much they need for retirement. Check our pension calculator to see how much income you're likely to need when you stop work.

Find out more about ways to close the pension gender gap in our blog 'Mind the pension gender gap!'